Podcast
The Corporate Data Show
The show is led by Rick Holmes, Founder of Every Market Media. You can expect to hear some insider tips and sanitized conversations about things EMM is working on or guests are working on or trends in the data business. Listen in to learn more about sales intelligence, data as a service, business intelligence, big databases, identity resolution, and more.
Our episodes can be found on Apple Podcasts, Spotify, Google Podcasts, and Stitcher. You can also listen to, share, and download every one of our episodes using our media player.
On this week's episode, Rick sat down with Kyle York — or at least a computer with Kyle's face on it — to discuss using data for growth, both literally and metaphorically. Kyle is the CEO and co-founder of York IE, a vertically integrated strategic growth and investment firm specializing in scaling startup companies. That was a lot of technical jargon, but it boils down to this: Kyle knows his stuff when it comes to company growth. So, while a million and one people have covered this topic before, you can bet good money Kyle is about to teach you something none of them ever did.
If you haven't already, subscribe to the Corporate Data Show on your favorite podcast player. Your open-rates, data, customers, and well, your everything will thank you. Plus, Rick's got a pretty soothing voice if we do say so ourselves.
Got a topic you want us to cover? Or a guest you want us to bring on? (Yes, even if it's yourself, you beautiful marketer.) We want to hear from you! Hit us up at marketing@everymarketmedia.com.
Show Notes:
When you're the CEO of a company that focuses on scaling startup brands, like Kyle is, you learn a thing or two (or a thousand) about growth strategies. In the same way, when you're the CEO of a company that specializes in the sale of outbound marketing data, like Rick is, you learn about data. Luckily, these two areas of expertise have a lot of overlap, meaning both Rick and Kyle have very unique opinions on growth through data, which they compare in this episode.
Kyle explains that when he was in the process of founding York IE, his primary goal was to create a company that would function as an operator and an investor. His solution, he says, was to build a SAAS platform for market competitive intelligence. He found that many sellers in the industry were solely focusing on their products' entry into the market, while largely ignoring the importance of researching market conditions, pricing, SEO, competing products, etc. As a result, they weren't gaining valuable insights that would allow them to differentiate themselves from the rest of the pack.
He realized that in order to advise clients well and invest in the right brands, you need to do the research and ultimately, have the best data. In turn, you'll see more sales in the market you prepared yourself for, and your company will grow.
On the flipside, Rick describes EMM's involvement in the Snowflake Exchange, to which we have contributed more "product-out" data, as Kyle calls it. This can still give you valuable info about the market despite being a different approach, because it shows data such as the rates at which emails are decaying at competing companies. This gives you the insider scoop on which companies are succeeding or struggling, and you can gain insight into who your biggest competitors are.
As far as more "product-out" data goes, there are two basic lanes in Kyle's opinion: investing and prospecting. However, in either case, the data can be confusing and overly complex, which is why he focuses on pulling decentralized data for his clients that will provide a more basic snapshot of what they need to know. This is important because he's not dealing with developers or engineers who are working with technical data every day; rather, he's working with higher level managers who don't have the time to sort through pages and pages of data in order to grow their businesses.
While there are different approaches, the moral of the story is this: data is integral to growth. Without the right data, you can't make informed decisions. And if you aren't making informed decisions, you're either going to fail or you're going to luck into some success before realizing you're in over your head. Either outcome puts you right back at square one, and we'd rather see you at square 100.
Guest Bio:
A marketing graduate of Bentley University, Kyle York is co-founder, CEO, and managing partner at York IE™, working with brands such as Auditoria, Finmark, Metadata, and Vetro while reshaping the way in which startups are scaled. Working closely with entrepreneurs, operators and investors, he helps realize their shared ambition to build good companies, create new jobs, grow generational wealth, and impact the world.
Advising and investing in over 100 startups over the past decade, Kyle is an active board member at Blustream, CloudApp, and Forcivity, as well as a chairperson at Canvs AI. As if he weren't busy enough, he is also the co-founder of a 3rd generatio family business, York Athletics MFG, and his most successful startup engagement, Fastly, IPO'd in 2019 and is now valued north of $12B.
During his career, Kyle has served as an independent board member for Datanyze (ZoomInfo), Assent Compliance (Warburg Pincus) and Flowtraq (Riverbed). In 2008, he became an executive with Dyn Operations, where he garnered so much success that the company was strategically acquired by Oracle in 2016. As you would expect, he hit the ground running, becoming vice president of product strategy for Oracle Cloud Infrastructure and general manager for Oracle's Dyn Global Business Unit.
Because of his expertise in the global internet, cloud, SaaS, IaaS, and technology markets, Kyle has been featured in publications such as the Wall Street Journal, Entrepreneur, the New York Times, TechCrunch, USA Today, and Wired. In addition, he has appeared on broadcasts such as NPR's All Tech Considered, NBC's Today Show and PBS's Frontline, and spoken at countless global conferences.
If you'd like to connect with Kyle or his company, you can do so across all social channels at @kyork20 and @yorkgrowth, respectively.
This week on a quick cut of the Corporate Data Show, Rick sits down with Sushant Bhardwaj of SafeGraph to discuss their data compilation and association with Placekey. So, if you've got just 5 free minutes and a will to learn about an awesome initiative, tune in and join the conversation!
If you haven't already, subscribe to the Corporate Data Show on your favorite podcast player. Your open-rates, data, customers, and well, your everything will thank you. Plus, Rick's got a pretty soothing voice if we do say so ourselves.
Got a topic you want us to cover? Or a guest you want us to bring on? (Yes, even if it's yourself, you beautiful marketer.) We want to hear from you! Hit us up at marketing@everymarketmedia.com.
Show Notes:
In the world of data and marketing, very few things are free. Heck, in life, very few things are free. But, as Sushant explains, contributing to SafeGraph and their efforts in Placekey is. Safegraph is a data-as-a-service provider and founding member of Placekey, an initiative across the geospatial and data ecosystem to build a universal, free identifier for every place in the world, including POIs, residential, industrial, and office spaces.
The basic idea is to provide accurate, widespread data on as much physical info as possible. This could refer to the exact location of a business, office, etc. Or, it could tell you whether the business has a parking lot. Maybe it's how much foot traffic a certain area gets depending on anonymized cellular data.
Regardless, all of this info can be very helpful for us to have, but it's a massive undertaking to compile and organize it all. That's why SafeGraph, along with some other major players in the industry, are working to make it happen.
You can learn more at www.safegraph.com, including how to become a part of the initiative as well as how to purchase some of the datasets they're putting together.
Guest Bio:
Originally from New Delhi, India, Sushant went on to graduate from Penn University in Philadelphia and work in the finance industry. After spending a few years in New York, he relocated to Washington, D.C. where he worked at a sports and wellness consumer startup. Of course, he has ultimately ended up at SafeGraph where he focuses on creating, seeking out, and driving new initiatives.
If you'd like to get ahold of him, you can do so at sushant@safegraph.com!
As if he weren't busy enough raising $40 million and running the leading B2B customer data platform provider out there, Alex Yoder of Leadspace sat down with us this week to talk CDP. As you probably put together from context clues, CDP stands for "customer data platform." However, you probably haven't quite put together what that means yet. Well, fret not, because Alex was happy to give us the inside scoop. So tune in, kick back, and get your daily dose of learning with this episode of the Corporate Data Show.
If you haven't already, subscribe to the Corporate Data Show on your favorite podcast player. Your open-rates, data, customers, and well, your everything will thank you. Plus, Rick's got a pretty soothing voice if we do say so ourselves.
Got a topic you want us to cover? Or a guest you want us to bring on? (Yes, even if it's yourself, you beautiful marketer.) We want to hear from you! Hit us up at marketing@everymarketmedia.com.
Show Notes:
As we know, the marketing industry loves nothing more than a good acronym. Honestly, if we could speak solely in acronyms, we probably would. Of course, we can't, but we can define the most useful ones, like CDP.
As one of the most knowledgeable CDP experts in the business, Alex broke it down for us in layman's terms: the acronym itself, as we know, stands for customer data platform. But what is that? According to Alex, it's a platform that aggregates and organizes customer data in such a way that it's useful for much more than just marketing and sales. If done well, CDPs give this data purpose in product development, supply chain management, planning, and much more. So, the big idea behind CDP is to not just get data, but to make it useful for a company.
Now, this might sound a lot like something else we've talked about here: CRM, or customer relationship management. However, Alex points out that CRM is nowhere near as effective in organizing data as CDP, because it requires restructuring and human input by nature. This means that it's often inherently flawed and incomplete, and can't be used as effectively.
This can take a huge toll on important processes like deduplication. This practice in particular is very common, and becomes especially important when one major company buys others and suddenly inherits multiple data sets that often have multiple duplicates of each other's customers. Rather than having some poor soul sift through it all and figure it out, a top-notch CDP will do it for you.
Alex goes on to explain that Leadspace is one of the only CDP providers out there that works solely in the B2B space. He believes this is valuable because business buyers require personalized sales approaches and marketing experiences, just like individual consumers. To accomplish this, Leadspace works with sales teams of 100+ to create what they call "personal graphs" or "living profiles" of customers, making all pertinent data immediately available to them.
This means less human input and error, more personalization, and more sales.
Guest Bio:
Blending his talents in general management, vision, operations, sales execution, organizational change management, and leadership development skills, Alex Yoder has repeatedly reset businesses and consistently delivered new and sustained growth. Before becoming CEO of Leadspace, he held the same position at Trueffect, Ebiquity, and Webtrends, and was most recently the EVP of Analytics at Merkle, overseeing a 2500-person organization. So, needless to say, he has a proven track record of delivering extraordinary results under extremely challenging circumstances. All of these experiences have made him a results-focused, strategic senior executive with deep experience in marketing, advertising, data and analytics technology.
If you'd like to get in touch with Alex, you can reach him at alex.yoder@leadspace.com or find him on LinkedIn!
As Warren Zenna of the CRO Collective tells Rick in this week's episode, one of the most swept-under-the-rug issues plaguing companies is their misunderstanding of the role Chief Revenue Officers (CROs) play. Some organizations simply don't have one, while others are using theirs incorrectly. Warren explains how important it is for the CRO role to be effective and holistic, so that companies are seeing as much revenue as possible.
If you haven't already, subscribe to the Corporate Data Show on your favorite podcast player. Your open-rates, data, customers, and well, your everything will thank you. Plus, Rick's got a pretty soothing voice if we do say so ourselves.
Got a topic you want us to cover? Or a guest you want us to bring on? (Yes, even if it's yourself, you beautiful marketer.) We want to hear from you! Hit us up at marketing@everymarketmedia.com.
Guest Bio:
Warren Zenna's marketing career began pre-Google, in 1995. Since then, he's done a few laps around the entire marketing services industry, with a resume including IMC2, Zeta Global, iCrossing, Publicis Groupe, Havas, and Location Sciences.
His consulting firm, Zenna Consulting Group, is a Strategic Advisory that develops and executes marketing strategies for B2B tech firms. As part of this work, he develops go-to market positioning strategies and builds revenue operations of scale through strategic partnerships. He's currently an executive advisor and fractional Chief Revenue Officer for various clients including Equinox, DailyPay, EngageBDR, Semcasting, and AdvancedContextual.
Of course, he most recently launched The CRO Collective, an advisory and training platform for B2B businesses focusing on the success of Chief Revenue Officers. Clients include Semcasting, Ogury, Givsly and MadHive.
You can reach Warren on LinkedIn pretty easily, since he's the only Warren Zenna on the entire platform, or you can email him at warren@crocollective.com!
Show Notes:
Well, folks, it's finally happened. Rick was wrong. We know, we know; it's shocking, and we still haven't quite recovered ourselves, but it happens to even the best podcast hosts. Luckily, though, we had Warren Zenna around to set him straight. In the first couple minutes of the episode, Rick said that by his understanding, a CRO was essentially in charge of sales, overseeing salespeople and revenue channels. Now, to anyone who isn't an expert on this topic, that sounds pretty reasonable, right? We thought so.
Well, it turns out it's not quite that straightforward. Warren explains that in a B2B company, you've typically got 3 groups that make up the revenue functions: sales, marketing, and accounting/success. Most companies don't coordinate well between these three organizations; in fact, they often work against each other, as they have to fight for budget allocations. This leads to poor diagnostics, but knowing the backstory, it's not that the diagnostics are bad, but rather the company culture.
The CRO, then, should be the head of all three of these departments, creating a uniform front. This way, rather than butting heads and causing internal conflict, the revenue-producing departments within your organization will all work together. Another way to think of this, as Warren outlines, is that managing revenue isn't just about making sales. It's about creating value that will translate to sales. They may sound the same, but the distinct difference is that the latter outlook causes us to view the process gaining revenue more holistically. A good company will approach revenue functions as overall customer experiences, starting from the first email sent to the feedback they receive. This leads to even more sales and greater revenue.
This is the main challenge facing companies when it comes to CROs: far too many of us regard them simply as heads of sales. This forces them to view revenue streams through an extremely narrow lens, causing internal issues and loss of revenue.
Click here for the full transcript.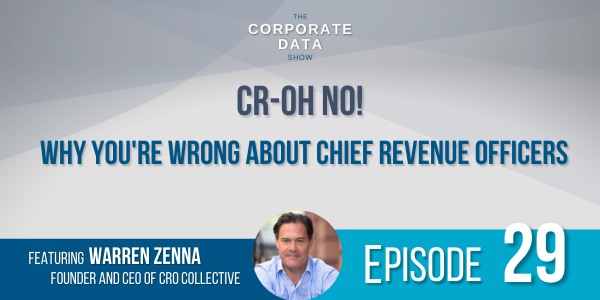 On this episode of the Corporate Data Show, join Rick as he sits down with Gil Allouche of Metadata.io, an autonomous demand generation platform that automates the most critical, but often tedious, tasks in marketing. The two of them sling back a couple mocktails while talking company culture and its importance. So kick back, whip up a virgin mojito, and listen as they enlighten us on how to best leverage great company culture to our advantage.
If you haven't already, subscribe to the Corporate Data Show on your favorite podcast player. Your open-rates, data, customers, and well, your everything will thank you. Plus, Rick's got a pretty soothing voice if we do say so ourselves.
Got a topic you want us to cover? Or a guest you want us to bring on? (Yes, even if it's yourself, you beautiful marketer.) We want to hear from you! Hit us up at marketing@everymarketmedia.com.
Guest Bio:
A software engineer turned data-driven marketer, Gil Allouche began his marketing career as a product strategist at SAP while earning his MBA at Babson College. His hustle didn't stop after school, as he went on to run marketing divisions at Qubole, Karmasphere (now acquired by FICO), and Spotfire SaaS offering, where he developed and executed go-to-market plans that increased growth by 600%in just 18 months. Of course, he is now the founder and CEO of Metadata, which you just heard him talk about. If you'd like to get in touch with Gil, you can reach him at gil@metadata.io. Plus, not to shameless plug Metadata, but he's hiring. (And we hear from a reliable source that he cares quite a bit about maintaining a great place to work.)
Show Notes:
Going into this episode, the team wasn't sure if the focus should be company growth or culture. However, after some deliberation, we came to the conclusion that without solid company culture, you're going to struggle to grow anyhow. And even if you do, poor culture will cause issues along the way. So, as Gil agrees, company culture is crucial to perfect before you can focus on growing.
After some struggles early in their careers, Rick and Gil both learned that the best way to instill a winning culture in their companies was to do so by example. Of course, both of them point out that this isn't necessarily easy. It involves some hard decisions and some even harder conversations, but it's always worth it.
While company culture can grow and evolve, and there's always something new to learn, Rick points out that a great place to start is putting your values in writing. This makes your culture more tangible, and gives you something to hand new employees before they even have their names on their desks. Most importantly, this write-up should be created with your long-term goals in mind. If you don't plan for growth and center your company culture around it, you'll never be able to keep control of a large team.
To illustrate the importance of having good culture before growing too large, Rick and Gil reference What You Do Is Who You Are by Ben Horowitz. They recall the story of a prisoner who came to lead a cell house gang through violent and otherwise unsavory methods. After taking control, he looked back upon the pile of bodies in his wake (some metaphorical and some not so much), and realized that he had not truly accomplished anything great. This may sound a little extreme, but it's a fitting analogy. If you just blaze ahead with nothing in mind but reaching the top, you're likely not going to be satisfied with what you've built when you get there.
At the end of the day, what's most important is building a company and a brand you're proud of. As Rick concludes the episode, he points out that it's more important to be truly fulfilled in your work than to score big wins every single day. So, keep your values in mind in everything you do, and your team will follow suit.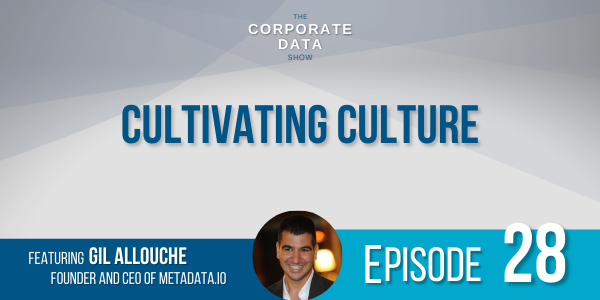 This week, Rick sat down with Harrison Tang of Spokeo to discuss the ethics of compiling personal (B2C) and professional (B2B) data all in one place. Covering topics like the privacy paradox, access management, and more, they discuss the challenges many of us face in this business when it comes to ethics. Listen and read on to learn more about what Harrison has to say!
If you haven't already, subscribe to the Corporate Data Show on your favorite podcast player. Your open-rates, data, customers, and well, your everything will thank you. Plus, Rick's got a pretty soothing voice if we do say so ourselves.
Got a topic you want us to cover? Or a guest you want us to bring on? (Yes, even if it's yourself, you beautiful marketer.) We want to hear from you! Hit us up at marketing@everymarketmedia.com.
Guest Bio:
After earning a B.A.S. degree in Electrical Engineering and Economics and a M.S. degree in Electrical Engineering at Stanford University, Harrison co-founded Spokeo in 2006 with his college roommates, Mike Daly (CTO) and Eric Liang (CIO), in his parents' basement.
With a passion for building products that make users' jobs easier, Harrison guides Spokeo's product vision to build an experienced team and help the company realize its mission of making the world around us more transparent. Under his leadership, Spokeo's usership has grown from zero to millions since its inception. You can find him on LinkedIn or any major social media channel under the username, "theceodad."
Show Notes:
One of the biggest challenges facing any organization that compiles large amounts of data is security. When you're storing massive amounts of personal and professional data, there's always a risk of your database being breached, no matter how good your security is. And, of course, if this happens, you're going to make the news — and not for a good reason.
So, compiling mass amounts of data inherently raises the question: is it ethical to store people's personal and professional data all in one place? Harrison says yes, but with some conditions.
One interesting facet of data compilation involves the privacy paradox. As Harrison describes, the privacy paradox essentially describes the ease in which many people will claim they care about personal privacy, but when tasked with actually doing something to protect it, they opt out. It sounds crazy, but think about it: how many times have you, as someone who likely cares about their privacy, agreed to let an app you downloaded 13 seconds ago collect your personal data? The reality is, most of us don't care as much as we think we do, as long as we don't see any effects of this lessened privacy.
Because of this, Harrison believes the main ethical consideration in storage of data is access management. He explains that identity has two parts: the first is the knowledge, or info of that identity, itself, and the second is access to that knowledge. Using this breakdown of parts, he believes that if people agree to have their data collected, it's ethical to do so, as long as you ensure it never falls into the wrong hands.
This sounds like a simple concept, but it's actually very complicated. Harrison points out that people's privacy preferences are temporal, meaning they change over time. So, maybe they originally agreed to making their personal info available to data resellers, but a month later they would not agree to do so. This makes access management extremely challenging; who do you give access to what info and when? How do you build an access management system that predicts people's privacy preferences?
The reality is, none of these questions have easy answers, and we only had time to scratch the topic's surface. However, Harrison and Rick both agree that access management is the key to ethical data compilation and storage, so if you're planning on putting together a database anytime soon, just keep that in mind.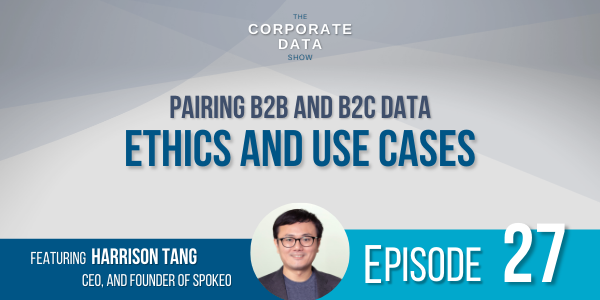 On this week's episode, we're joined by Jason Yarborough of Terminus, the leading company in the account-based marketing movement. He and his team believe that often the problem for salespeople and marketers is not lack of data, but rather a poor strategy in using that data. (And we happen to agree.) Tune in while Rick and Jason discuss how an account-based strategy can help you get more sales.
If you haven't already, subscribe to the Corporate Data Show on your favorite podcast player. Your open-rates, data, customers, and well, your everything will thank you. Plus, Rick's got a pretty soothing voice if we do say so ourselves.
Got a topic you want us to cover? Or a guest you want us to bring on? (Yes, even if it's yourself, you beautiful marketer.) We want to hear from you! Hit us up at marketing@everymarketmedia.com.

Guest Bio:
Jason Yarborough is VP of Partnerships at Terminus, a leading ABM company that helps marketing, sales, and customer success work together to create a winning go-to-market strategy. But, as with any of us, he's much more than a job title. He's also a devoted father to his son Jack, and he and his wife Samantha are expecting a baby girl soon. A lover of coffee and people, you can usually find him spending his free time outside, following an obscure trail his curiosity took him down.
To get in touch with Jason, you can find him at yarby@terminus.com or on his LinkedIn!
Show Notes:
We here at Every Market Media fully endorse ABM, or account-based marketing, for the same reason we endorse anything else: it works. Jason, of course, agrees, and helps break down why that is.
The reality is, if you're measuring success based on the wrong criteria, you might think your sales team is doing a great job because they're getting lots of emails sent out and you're going through long lists of data so fast that you have to buy more. But does that really matter if those emails aren't getting responses? No, of course it doesn't. That's why we and the folks at Terminus believe in hyper-targeted marketing.
Hyper-targeted marketing, which is the basic principle behind ABM, allows your team to work together to create a strategy specific to a potential client. Because this is time consuming, it means you'll be reaching out to fewer people, but it also means you'll have a higher chance of success with each one.
Jason and his colleagues at Terminus have developed the TEAM method, which involves the following:
T - Target account lists are established using multiple datasets.
E - Engage with these accounts.
A - Activate your account-specific strategy developed based on learnings from data.
M - Measure. As with any strategy, it's best to measure your performance so you can improve.
Here at EMM, we use the TPS Report (cleverly borrowed from Office Space), meaning:
T - Target
P - Pain
S - Solution
This essentially means we're finding our target accounts, identifying what issues may be causing them pain, and then offering a solution. There are lots of different approaches, so it's important to see what works for your team.
By creating and executing the best possible strategy for 100, heck, even 10, target accounts, you'll probably be much more successful than if you just used the same approach for 1000 random accounts. As Jason and Rick both point out, data for the sake of data isn't what you need. Find the best matches for you, develop perfect strategies for them, and avoid ending up in the spam folder.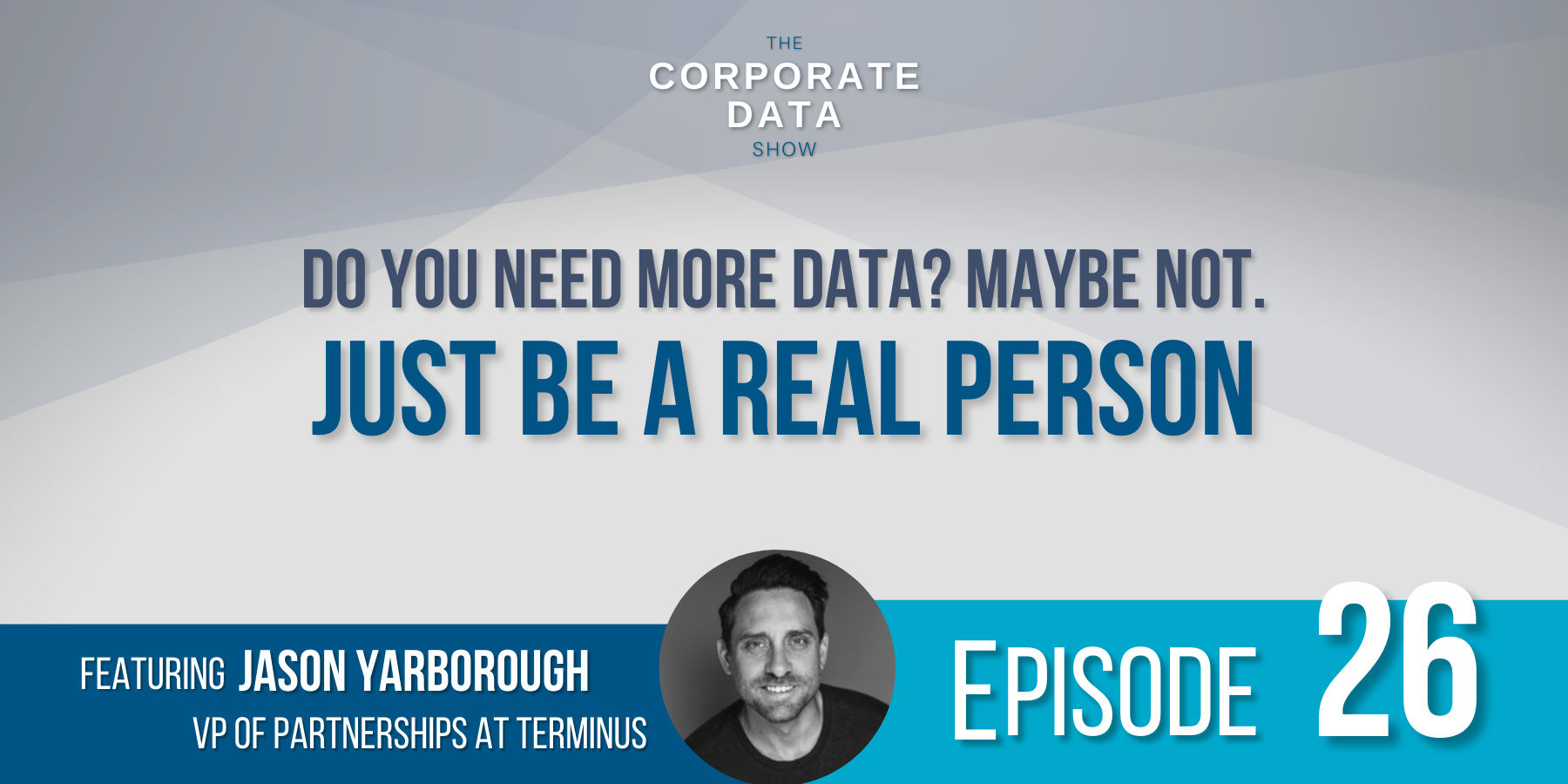 In this week's episode, Rick has a long-distance sitdown with Jeroen Corthout of Salesflare to discuss the importance of good CRM software. Learn about how crucial it is to have an efficient system for pulling in data on your leads, and how Salesflare can help. Never manually track down those boring little tidbits of info again, and more importantly, get your salespeople to stop complaining.
If you haven't already, subscribe to the Corporate Data Show on your favorite podcast player. Your open-rates, data, customers, and well, your everything will thank you. Plus, Rick's got a pretty soothing voice if we do say so ourselves.
Got a topic you want us to cover? Or a guest you want us to bring on? (Yes, even if it's yourself, you beautiful marketer.) We want to hear from you! Hit us up on our contact us page or at marketing@everymarketmedia.com.
Show Notes:
One of the most common misconceptions in the world of outbound marketing is that you just need thousands and thousands of contacts and you're good to go. But a list of 25,000 emails doesn't do you much good if you're not using them efficiently and following up with leads.
If you're buying data from a really cool, really talented marketing agency (wink wink), the data should be complete and well-organized. So, things will be easy on the marketing side, but it's harder to pull in and organize data on the sales side. Salesflare automates this process, making your life easier.
Say you reach out to a contact and want to map out not only your interactions with that person, but also any relevant info about them. Salesflare will use any available data, such as email signatures and linked websites to compile even more data. With just a small amount of info, Salesflare can hook you up with things like social profiles, LinkedIn pages, job descriptions straight from the contact's company site, photos, and even schedules. All you have to do is curate this info for your CRM, and boom, you're in business.
This gives you a much more complete image of who you're talking with and helps you communicate better with them. It even allows you to follow up at the right time, because you have an idea of what they're doing and when.
[Cue infomercial voice] But wait, there's m– just kidding, we're not going to say that. But there really is. Because Salesflare is an international company, the fill rate is fairly similar regardless of what region you're in or selling to, giving it a significant edge over some software that only operates in the US or other regions.
So, moral of the story is, automate everything you can automate, so that you have the time and energy to be human when you're actually reaching out. Because that is how you make outbound marketing most effective: be human when it's time to be human, and be automated when it's time to move fast.
Guest Bio:
Jeroen Corthout works across the pond in Belgium as CEO and co-founder of Salesflare. He and the other founder, Lieven, grew tired some time ago of manually tracking and following up with all the leads they had at their software company. So, being the software savants they are, they developed a system to automate the process. Thus, Salesflare was born. Now, it's the most popular and top-rated CRM software on the market, praised for its efficiency and ease-of-use.
You can find Jeroen on LinkedIn if you'd like to connect with him, and be sure to check out Salesflare for more!
REMEMBER FOLKS: Send him a personal message along with your connection invite so he can pick you out amongst all the bad spam. These guys...always making us outbounders look bad.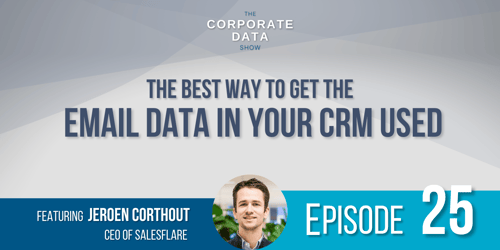 Disclaimer: The following episode features a fictional event, where an inbound marketing team kidnaps the co-host in an attempt to stop Every Market Media from proving that outbound marketing does indeed work. But really, it does work. Like, really good.

In this week's episode, join Rick as he announces our upcoming event "The Great Data Bake Off," a grading activity that gets some of the biggest hitters in the data industry together to see who can "bake" the best data. But that's not all! The original recording of our episode was thwarted by a motivated inbound marketing team looking to control the dialogue around the effectiveness of outbound marketing strategy. The studio was trashed and our co-host was kidnapped. We're here to tell you that it is all going to be okay and our show will be sent out as scheduled.

Listen now to some of the highly edited audio that survived the encounter, as Rick and our anonymous co-host brainstorm the grading criteria and rules for our bake off.
If you haven't done so, subscribe to our show on your favorite podcast player so you never miss an episode. Your open-rates, data, customers.. uhm.. Pretty much everyone will thank you for it!
Know a great topic you want to hear? Are you a great podcast guest? Do you know a great podcast guest? We want to hear from you! Please reach out to us at marketing@everymarketmedia.com.
Show Notes:
Every Market Media decides to host the Great Data Bake Off to compare popular sales intelligence and marketing databases for accuracy on key attributes used by professionals to generate revenue.
Inbound marketers long afraid of being asked to do any work that might look or smell like a sales activity are controlling the dialog about their methods being the only methods that work.
You can see this to be true when you search for information about doing outbound email marketing the right way and you see that the search positions are dominated by some big folks with lots of content designed to sell you inbound solutions.
Here at EMM we are marketing type agnostic about what works, and we find a composite method of inbound, outbound and customer management to be the right approach for ourselves.
However, the original show host that had recorded the show was unable to participate because of a membership organization their firm belongs to. In that group, they agree to not sell or imply the effectiveness of outbound email marketing. We are not making this up.
While this firm and millions of others will make phone calls and send sales emails to good effect, our guest now dubbed "Chad" wasn't even allowed to tell you this, so we had to anonymize him and get another judge.
In the data bake off setup show, it was determined that up to nine sets plus EMM could be accepted and that the minimum data needed to be evaluated would be business level information. The show will give priority to data sets that also contain executive contact information but will grade attributes at the business and contact level.
We're going to reach out to our preferred participants for samples. If you'd like to participate, please email marketing@everymarketmedia.com.
Sorry about the dust up, Chad. The show goes on.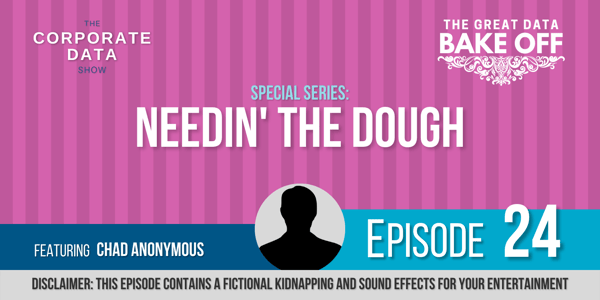 In this episode, Rick discusses what data professionals should be doing to wrap up this eventful 2020 to prepare for the new year.
With all of this year's challenges, we also want to take a look at the bright side and say thanks to everyone on this journey with us.
If we don't see you beforehand, Happy Holidays! We'll see you all again next year. Take the time to rest and safely see family if you can. You deserve it.
If you haven't done so, subscribe to our show on your favorite podcast player so you never miss an episode. Your open-rates, data, customers.. uhm.. Pretty much everyone will thank you for it!
Know a great topic you want to hear? Are you a great podcast guest? Do you know a great podcast guest? We want to hear from you! Please reach out to us at marketing@everymarketmedia.com.
Show Notes:
1. What should data professionals be doing to wrap up 2020? Prepare for 2021?

Planning and staging. Why are you even wasting your time with prospects that are not an ideal buyer type for you? Make sure the cadences you have set up to your accounts are all full of companies that fit your buyer persona flawlessly.

Then, backfill the cadences with contacts using a tiered, personalized strategy. Done right, this should be about six weeks per account list, so, you don't want anything in there that shouldn't be getting in the way.
Hold yourself accountable to some important metrics. If you aren't hitting them, stop and go back to the drawing board. Is your open rate above or near 30%? No? Check your delivery. Send some real emails to yourself, don't just hope whatever automation your company bought in a hurry in Q3 actually works. Are you seeing a response rate (any positive response, even polite no-thank you's) of 5 – 7% after 4 weeks or so of outreach with at least 1 touch per week?
Finally, I know you all think since the highest response rate is the last one in the cadence, so you just skip there. Tsk, tsk, tsk. Don't do that. Don't fake start an email with RE:, either, to simulate a reply. Let's not start 2021 on a bad foot, eh?

2. Some favorite things about this year, silver linings, but really GTFO 2020

Email marketing is cool again? But so many companies are hiring people on their behalf that are just doing a terrible job. I'm not going to kick anyone specifically in this economic climate but you know who you are making the rest of us look bad when you don't put the appropriate time into your work.
Information services is hot, hot, hot.
Shoutout Zoominfo for buying everyone. Shoutout to all the entrepreneurs taking that easy investor money about to lose it.
Shoutout the awesome new people onboard EMM, its been a real perspective shift, without this terrible year we never would have made the changes to find each other.


3. Happy Holidays to Everyone! (holidays? Time has a meaning again?) BIG thanks to our listeners, customers, partners, and staff. Stay safe out there!
Transcription:
Rick Holmes (00:02):
Hey everybody. Welcome back to The Corporate Data Show.
Rick Holmes (00:05):
I'm Rick Holmes. Your fabulous host wrapping up 2020 with you. Don't know if he'll have gotten me any new intro music by the time this thing comes out, but I sure hope so. The other one's fabulous, but put dated, but data definitely dated. So the purpose of this podcast this week wrapping up 2020, I wanted to give the SDRs out there. The marketing folks some of the new folks to some tips on what they should be doing right now to wrap up 2020 and generate leads for the company. So they continue to have gainful employment and make money. "What should you do?" Is a popular question right now to prepare for 2021. Let's get right in all right, SDRs people who are in sales support, you guys need to be building and planning and staging.
Rick Holmes (00:51):
The first thing you want to be thinking about here is, why are you even wasting your time with prospects that are not an ideal buyer type for your company or the product that you're selling are charged with making the quota for. Make sure when you set these cadences up, that you have set them up chock-full of companies that fit your buyer persona flawlessly. And if you can't say that these businesses fit your buyer persona flawlessly, you either don't know the buyer persona, or they don't fit the buyer persona flawlessly, and you need some more direction. That's the first thing you've got to do setting up for 2021. After that you've got to go to your accounts that are chock-full the right people. Now you can spend time filling them in because they fit flawlessly. Right? You did that before. I hope so. So you want to backfill those with contacts and you can use a tiered personalized strategy here.
Rick Holmes (01:41):
Like if you stretch this out over four weeks or six weeks, you can reach out to your prospect and the people who work with them. And you can do that in a tiered personalized way. If you're doing this right, it's going to take you six weeks. So again, go back to the core part of this guy, as the core part of the advice I'm giving you, do not have companies in this list that you don't want to solicit no list of a hundred good companies. There's a lot to work, especially at first. And I know a lot of bosses want you to go faster. You can go fast once you got the process going, but don't start going fast than a process you don't have nailed down yet. Okay. So that was a lot of advice. So once you start working in 2021 for those of you guys that save these things and put them on repeat, now what? You got the cadences, you think you've got some decent script.
Rick Holmes (02:24):
You've got your telephone in your hand now, what? Okay, well, I'll have you start sending the emails. I recommend you send emails and make calls on Tuesdays, Wednesdays, and Thursdays, and set yourself up to make calls on Mondays and Fridays. Just for simple advice. The other thing you want to do is hold yourself accountable to some important metrics here. If you start sending and calling, you're reaching out to folks within about a week, maybe a little longer than a week, your open rate should be at, or above 30%. If you're sending one-to-one emails, if it's not check your delivery, you might have a layer of technology in there doing marketing automation or tracking for you. That's causing you to not deliver to inbox. And that's a super big problem. So make sure before you start reaching out to folks that that all looks good.
Rick Holmes (03:12):
You know, do you have a profile picture set up a couple of those things make you look like a real person. If you don't have 30% stop right away, like within a week. Okay. send some real emails to yourself and see what's up. Don't trust all your technology stack if you haven't checked it at least once. So that's my, that's my first thing. The second piece of this after the campaign's been going, say like four weeks, you want to make sure that you're seeing a response rate and this can include, you know, polite "buzz offs," but you should be seeing a response rate of about 5% to 7% after you've got four outreaches out there. So, so you've got a four-week cadence send one email a week and make a call a week and check out a LinkedIn profile.
Rick Holmes (03:55):
If after four weeks of doing that, you don't have a five to 7% positive outreach. You again, you got to check out what's going on in your, in your basics. So last thing you might've heard some dirty tricks or read a different article. Let me just talk you away from the final thing you shouldn't do to wrap up 2020. Don't do what some people have been busted doing. And look, I'm not going to pick on anybody specifically because of the economic climate this year, but I've seen folks skipping right to the last email in their cadences to get a higher response rate as if I didn't notice the other three weren't sent. But don't do that. Don't skip the last one. Your cadence you'll get a higher response rate maybe, maybe, but hopefully that's just ad agencies doing that on behalf of their customers.
Rick Holmes (04:40):
And the second thing don't start emails in cadences. Someone got this slick idea recently don't start emails with "RE:" it's not a reply. Don't be disingenuous. You're making us look bad. You make it the rest of us look bad. Come on. Don't do that. Let's not start 2021 on a bad foot. Speaking of a bad foot, 2020 yuck, a big old, just, just yuck. Just yuck, cause there might be children. So I'm not going to yuck too long, but yuck. However, there were some silver linings, one of them - email marketing's cool again. I did a little bit on a rant there at the end when I was telling you what not to do email marketing, being cool again is great. People are checking their email response rates are up, you know, it's great, but, but don't please don't throw shade on the entire outbound functional process by just doing a bad job and chucking spam at people.
Rick Holmes (05:38):
Please, please, please, please. We'll go so far as if you're using our data to do that through EMMquery we'll kick you off. So don't do it. Don't do those kinds of things. Don't be doing bad marketing. Don't be doing complaint generating marketing. Don't be doing phishing. Okay. Any you guys out there with lists don't do that. No more phishing people have had enough. Stop it. Okay. Other things I think that are cool about 2020 that happened. The information services business is just screaming. I said in the last podcast. Since then, Holy crap, Zoominfo - Have they bought the entire industry yet? Except for the other two largest B2B marketing enterprises? Whoa. You know, so anyways shout out also to all the entrepreneurs in like Q3, Q4 here taking all the easy investor money. I hope you guys don't just like lose all that money and get in big trouble, but somebody's got to 'cause they are practically throwing it at you these days.
Rick Holmes (06:36):
Hey. All right. Finally, I got to shout out to some new, awesome people on board the EMM train. You know, The Corporate Data Show is backed by every market media. This was like a hobby where I get to come and talk about some stuff and ask friends stuff things they like and learn those kinds of things. But every market media pays the bills, its data licensing business pays the bills. So another major silver lining a 2020. Man. We got some great people over here at EMM and you know, it came out of a spot where we weren't really even interested in growing our business at the beginning of 2020 businesses. Good. You know, keep it small, keep it all. I think as some of the saying, and then COVID happened and for whatever reason, some folks became available that were just great additions to our team.
Rick Holmes (07:26):
And we didn't ever found you guys without this otherwise pretty terrible year. So thanks for that. And I hope some other businesses are finding that as well. So those are the silver linings. If there were any, but seriously, 2020, when you're gone in 13, 14 days from now, I will not miss you. I will not miss you at all.
Rick Holmes (07:47):
All right, Ho ho ho. Let's conclude. This is show here. Finally. Happy holidays to everybody out there. Wow. It's the holidays already. Time. Time has a meeting again. That's that's great. So 13 days from now, it'll be 2021. Congratulations, everybody. We made it. You're still here. We made it. I want to thank everybody. Who's still listening to the show that have jumped back on the band wagon. Please give it to somebody else. Let's get some downloads. We got hell of a lot more downloads already than I thought we would on the first show.
Rick Holmes (08:18):
So we're definitely going to keep doing this. I want to thank our customers. I think I did that last time. I want to thank some of our customers again. I don't have the permission from them to tell you who they are, but I thank them. And thank you for paying your bills, friends. Also, I'd like to thank all of our partners, new and old for selling us data this year. Thanks a lot. We appreciate that. Appreciate all of you that have stayed privateers and not been sold to private equity. That's great. Thank the new team on Every Market Media. I already did that. Let me wrap up by saying, stay safe out there and barring, you know, whatever limitations on gathering or provided by your local public health guidance. Spend some time with your family, see them virtually. I hope you guys all have a great year, last 13 days of it. And I'll see you in 2021.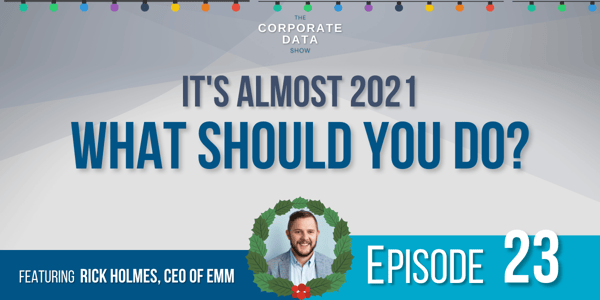 Every Market Media CEO, Rick Holmes, is back for episode 22 of The Corporate Data Show!
He joins the show today to discuss a few things - what to expect with the show moving forward, how COVID-19 has affected the industry, and what marketing and data professionals need to do to combat the challenges that they face.
He references our recent data findings on email decay. The full details can be found HERE.
Transcription:
Rick Holmes (00:06):
Welcome back to The Corporate Data Show!
Rick Holmes (00:08):
The wackos in marketing have decided to talk me back into doing a podcast so that we consistently turn out information for marketing professionals and data professionals. You guys might know we run Every Market Media in addition to this podcast, which is a business that helps marketing data find its way to the right data professionals, to use it to generate revenue.
Rick Holmes (00:33):
Some of the topics are technical. Some of the topics are philosophical. I'm going to have some guests, I'm going to do some different things, but I'm going to do the podcast until it makes me bored again and then I'll stop. But anyways, I think we're starting back up at episode 21 or 22. If I can get any of the folks that are still in the industry to come on the show - and there are a lot of them - I'll do that.
Rick Holmes (00:53):
If I can get some new faces, please recommend those and I'll get them on. We're going to just put this in our usual social channels, LinkedIn, our website, et cetera. So I invite you guys to email us at marketing@everymarketmedia.com with show ideas, guest ideas, comments, feedback, even, you know, I mean, I shouldn't invite this, but give me your thoughts about stuff in the data business.
Rick Holmes (01:17):
Okay. So that's kind of what we got going on. That's what we got going on. Got going for it. We're back with this show before I break out to the actual content of the show today I want to talk about COVID-19. I want to talk about Every Market Media. I want to talk about why we're coming back with the show, I guess. So, you know, the CV-19 thing has just been dreadful to businesses everywhere businesses that it hasn't been particularly dreadful to is, you know, businesses like Every Market Media, information services businesses have a nice tailwind right now.
Rick Holmes (01:52):
I think I'm certainly pretty busy over here. And so I felt kind of a responsibility to bring some, some work back to the community, back to the United States and bring the show back to talk about some of the things that are helping people be more effective in building data platforms within their SaaS products, building complex data products, within tools, analytics, engines and bringing more professionals onto the show.
Rick Holmes (02:18):
So I felt like that would be good for the ecosystem. And so I'm bringing this show back. I also felt like it would be good for us to bring Every Market Media sort of back into the spotlight. Again. Every Market Media has consistently, since 2013, been shipping update files to marketing services companies and SaaS products around the world - hasn't stopped. We want to thank our customers for continuing to pay their bills and everything through this pandemic, and it's just keeping the whole thing solvent. So thank you very much.
Rick Holmes (02:48):
So how has it affected data? Well, it's affected all kinds of things. It's made some great folks available in the data business that other industries weren't supporting them well. So, you know, that's happened. Also just been, you know, depending on the vertical that you're in, extremely transformative to your ability to market to your list, said differently, those folks who have very large databases, a million records, 2 million, 5 million, even bigger hundreds of millions you're seeing real number changes in the deliverability of your lists, especially if your data tends to focus on, on sales people on retail and some of these heavier hidden industries. So across the board, we are seeing this standard sort of norm number of a 2- 5% change rate in your business data, call it, you know, measured simply as email deliverability.
Rick Holmes (03:46):
We're seeing that number double. So in some cases, 7 - 10% decay hoping to see here in Q4 that level off, there's a link in our blog that you guys can go check out. That's got the full details on this. And we looked at the data, I think for about 140 million verified emails over the last 12 months. We're going to do that again here in Q1 and see if the decay rate has leveled off.
Rick Holmes (04:13):
So what can you do? Well, you know, what can you do about this? Well, there's a couple of things you can do. I would start by taking sort of the temperature of your data set. If you haven't already pretty late to not have done these things, hopefully you have by now. And I'd be taking a look at "how is my deliverability?" "how are your response rates?" Response rates seem to have actually improved offsetting some of the decay rates.
Rick Holmes (04:39):
But you know, if you are just starting back up an old list here in Q4 getting ready to go, to go to work in Q4 - Q1, make sure you clean the list. There are a lot of good partners out there that you can use. Don't drop any names at this point, because nobody's paying us to but any, any extended, hello verification service can sort of ping the records for you and at least keep the hard bounces out of the list. And you're going to want to do that. Even if the data's been sitting at this point for like 60 days, you're going to want to clean the data or have it manually reviewed. So that's what I do. You can always use a, if you're doing prospecting you're going to want to use a service that is validating the data right before they give it to you.
Rick Holmes (05:15):
That would be the best way to deliver it into your CRM. That'd be the best way to do it. But if a product does have a service level agreement where the data is being verified very regularly, maybe monthly, that might keep up. But right now I wouldn't be using a lot of marketing data that you don't know for sure, for sure is, is deliverable and good. Which brings us to "what the heck is Every Market Media doing?" Specifically for our data product, our data product on the B2B side, has just over 270 million emails in it, with historical. The historical has grown a lot in the last year. I want to say about 30 million records. You know, and that's about twice what we'd expect. So we stay after cleaning the data rigorously now, and we've adapted additional methods past just a ping verification and sent mail to check some of the harder to resolve buckets in any way.
Rick Holmes (06:13):
If you want more information on what EMM is doing specifically to combat deliverability issues in our production databases hit me up at marketing@everymarketmedia.com and your message will make its way to me. With that in mind, it's about time to wrap the show up. Next time, I don't know we're going to do. Somebody will probably give me a topic. Maybe one of you guys will give me a topic. Maybe I'll beat the drum on social media a little bit. Somebody will give me a topic, but it probably won't be about COVID, probably be something about data, maybe about acquisitions, maybe about business. I don't know, tune in next time for The Corporate Data Show. I'm Rick Holmes over here in Chicago. Look out for me next time folks. And hopefully with somebody more interesting than just myself, see you later.
DiscoverOrg (now Zoominfo) is considered to be one of the best B2B sets in the data business.
Their CEO, Henry Schuck, joined today's podcast to boldly predict a few upcoming business trends in 2017, including the fastest-growing verticals and the central theme that 2017 will be known for.
He also talked about privacy shield legislation, and what his wife said when he dropped a potential career in law and started DiscoverOrg from nothing.
It's been a problem for a long time for a lot of companies: unverifiable B2B email addresses. Especially if you're a marketing company or department with a big pile of data, you end up a with a bunch of question marks instead of valid data.
Welcome back to the Corporate Data Show's third Technical Sessions, the place where you can find a short guide series translating technical data processes to real world marketing applications.
Q: What are the two methods of root validation of unverifiable b2b email addresses?
A: Sent mail and "ask" (a.k.a. pings, MX lookups, and port 80 asks).
Each method has its pros and cons, which Rick Holmes, founder of Every Market Media, is here to explain.
Unverifiable email addresses aren't as easy to navigate as they used to be.
Today's guest is Rowland O'Connor, CEO of EmailHippo.com. He shared his thoughts on unverifiable email addresses, Microsoft 365, velocity-based email blasts, and more.
Reverse IP lookup is a way to discern something about a company so you can sell something to them—which is all well and good. But what exactly, you wisely ask, can I do with this technical topic to drive company sales?
In the second of Rick Holmes's Technical Sessions, you will figure out what reverse IP lookup is good for and why you'd want to bother with mapping anonymous website traffic. Hint: It's not as anonymous as you think.
Your IP address is what's displayed in most web logs for your machine. Here's the process: you browse a page, your machine logs onto the page, it gives off your public IP address, and the web page notes where you came from and when you leave. That's really it.
Here comes the good part. IP addresses can be used to identify both companies and households on the internet. Using IP addresses to find out information about companies falls under the topic of reverse IP lookup.
On this episode of the Corporate Data Show, Ryan Rolf, Vice President of Data Sales at Lotame, explains the ups and downs of data brokering. Lotame is the only independent data management platform in the market today, specializing in the technology to help clients—particularly publishing clients—manage their data.
Aggregating data from many sources in true data broker fashion, Rolf supplies data to advertisers to field their targeting, all the while hosting it online for easy access. In his six years at Lotame, Rolf has seen the company become one of the largest global online data exchanges.
Clients with diverse use cases are coming to him to build stuff, so he knows the importance of data quality. "When you talk data quality," Rolf said, "quality issues are in both sides of the world—third party data and first party data."
If you're a B2B company without a B2C resource, you're asking yourself, "How can we get more B2C data on here?" You could look for B2C marketing databases, but be warned. A B2C email marketer makes a lot of changes to their database that a digital marketer might not care to make.
In that case, why bother with matching B2B to B2C data?
In this first of Every Market Media's short guides on translating technical data processes to real-world marketing applications, Rick Holmes unpacks the technical nugget of matching B2B data to B2C data.
MapAnything deals with location data, letting you know where your customers/prospects are.
It's a different kind of data topic than we're used to covering on this show, but it's definitely just as interesting.
Listen in as Brian Bachofner, Head of Alliances at MapAnything, shares how location data can transform the way everyday sales reps succeed in their jobs.
Marketers today need all the right tools in the toolbox to get the job done right. Not all tools are must-haves, but comprehensive data is certainly is.
In this episode Dennis Arndt, Chief Technology Officer at RainKing, shares why having a proper org chart can make all the difference for outbound marketing.
Over the last ten years, there's been much more of a focus on privacy in Europe.
In the U.S., CAN-SPAM was the line in the sand and everyone got through that legislation. But in Europe, there are some really draconian measures that have come out. A lot of companies have corporate data policies driven more out of fear than necessity.
These are just some of the current differences in privacy and data handling between the U.S. and the UK. Listen in as Karie Burt, VP International at MeritDirect, explains that and others.
All sales development representatives—not to mention anyone who's ever bought a list—know the worst part of targeting companies is list curation. This is a time-consuming research task relished by exactly no one.
Any marketer or person who has worked with sales development tools longs for a magic wand—a fantastic research tool for sales development teams that will make list curation go away. How can b2b companies use big data and the tools that harness big data to dig up relevant prospects?
Fortunately, Gal Har-Zvi, co-founder and CEO of Unomy, knows about a dozen ways to turn a list of 100 (or 100 million) into the perfect 10 or 15. Listen to Rick Holmes pick his brain about creative ways to cut through the list to get at companies and locate specific people.
The metaphors are all real: Digital marketing is the Wild West, the final frontier, the Game of proverbial Thrones. But how do you win?
By using quality data to custom craft targeted profiles for programmatic advertising. At least, that's one way.
Listen to Rick Holmes interview Alan Osetek, CEO of Digilant, a global programmatic solutions provider, and find out how not to fail when the stakes are almost as high as the competition.
What if you found out there was a frictionless program that could help you make money from the data you didn't even know your company had?
People are missing out on tons of data because data monetization isn't a smooth process or they aren't even aware they have data of any value.
This episode of the Corporate Data Show is all about monetizing data. Rick Holmes interviews Fran Green, the President of Smart Data Solutions at ALC, about the "low hanging fruit" of monetizing data, as well as the next phases.
Stress is a major productivity and creativity drain.
In a perfect world, every employee would receive paid vacation to help relax and recharge. But, for a bootstrap/startup, it may not be feasible to include that in a compensation package.
Luckily, there are other ways to decrease the stress of working in an entrepreneurial setting for both your employees and yourself.
In this episode, Bart Lorang, CEO of Full Contact, talks about making everyone's life easier through clear job accountability.
For 15 years, people treated email marketing the same way: "I've got a list, I batch, I blast, I send."
With more data and sophisticated tools available, people are now choosier about what they allow into their inboxes. So the question becomes, "How can we add value in our messages?"
In this episode, Rich Wilson, VP of Customer Experience at BrightWave Marketing, explains why getting data to give you the right context is crucial to breaking through an inbox.
Account-based marketing, in its simplest terms, is about marketing the accounts that your sales team is going to sell to.
One of the core parts of account-based marketing is sales and marketing alignment. Often marketing is running off of metrics that aren't aligned with the sales team.
In this episode, Chris Golec, CEO of DemandBase, dives a little bit deeper into that basic definition and explains how small (or large) businesses can use account-based strategies to the fullest.
When looking for data sets, it can be tempting to choose the company with the biggest boast. If the website claims the company aggregates data from 30 million companies that's good, right?
Well, maybe. But without knowing where that data comes from, or what pieces of information the data provides, that nice big number is actually pretty meaningless.
The reality is that data aggregation is a more nuanced matter when you're looking for information that is both precise and actionable.
In this episode, Mark Godley, CRO for HG Data, talks about how the new methodology of data aggregation HG Data created gives their customers a "ridiculously unfair advantage."
Talking about new technology is fun.
Finding new tech to increase the efficiency of sales and marketing and to increase revenue is very exciting. That's why everyone spends so much time talking about it and reading up on new tech that enters the field.
Still, with this emphasis on technology, it can be easy to forget the most basic elements of business. Most notably, the human factor that goes into both sales and marketing can be overlooked.
In this episode, Garth Moulton, SVP of Business Development for Pipl, talks about why it's important to remember that while technology is useful, it's still less important than the human element in sales and marketing.
Bigger is better.
Or at least, that's the idea that persists in numerous industries and even non-business facets of everyday life.
However, when it comes to marketing data, the old adage is misleading at best and a total myth at worst.
A few years ago it was all about who can collect the most new email addresses. Today, the question is who can aggregate the most data, but there are more important things to consider than just the size of the database.
In this episode, Neil Glass, Senior VP at IDG, discusses why the focus on scaling data for digital audiences is overhyped and what you should really be focusing on instead.
Technology has really changed the data game in the corporate world. Anything you need to know about any field is now available online.
But how do you know what sources you can trust?
This week on The Corporate Data Show we talked to Tim Harsch, the co-founder and head of product at Owler, which is now the second-largest data provider and intelligence platform in existence, second to LinkedIn.
In fact, Owler recently hit a milestone of half a million active users and became the second-largest business community to LinkedIn. This is extremely impressive considering they got their start in 2011.
If you're asking yourself what caused Owler to become so successful so quickly, Tim explains something called the three legs of data creation.
When you think about how much bad data can really cost you, it's important to make sure that your info is deliverable, callable, and emailable.
If you've got a lot of data—and who doesn't, these days?—it becomes vital to spend the resources to ensure that the data you're using is accurate.
In this episode of the Corporate Data Show, Bud Walker, Vice President of Strategy at Melissa Data, underscores why focusing on active data quality can save and make both time and money (plus tips on how to convince management).
In every market, there are ideal customers. Unfortunately, they're all different. It's how you market to differing clientele that sets you apart.
This week on The Corporate Data Show, we interviewed Sean Kester, from SalesLoft, which was founded to help in-house sales professionals be the best they can be in their jobs. Through the SalesLoft Prospector, companies can target leads by making a list of potential leads and turn their prospective accounts into customer accounts through a touch-flow model.
In order to reach the most potential clients, we should take a holistic approach to sales, focusing on sales organizations, not just sales teams.
Sales intelligence can transform your sales and marketing departments—if you know how to use it right.
No matter whether you're a small, medium, or gigantic business, sales intelligence is focused on how to make sales reps more effective and more efficient. It can save you from a lot more than cold calling or mass emails.
In this episode of the Corporate Data Show, Michael Levy, the Principal of GZ Consulting, defines, describes, and debates how sales intelligence can position your company for growth.
Bad news, sales teams: it's not practical to reach out to 100,000 prospects in one industry.
Not even if you're making as many cold calls a day as humanly possible. You have to whittle it down.
You can almost look at it like professional editing in movies or literature. You throw all the fluff out and boil it down to the most essential elements.
In this episode, Geoff Winthrop from Acquirent shares why you need a specific ideal customer profile, and how you begin to come up with one.