Invalid company email accounts paint stark picture of CV-19 job losses

New data from Every Market Media offers insights into the true U.S. unemployment rate and the 10 industries hit hardest by the pandemic.
As the coronavirus pandemic drags on, unemployment rates have hit Great Depression levels in some of the nation's largest cities, and the current U.S. unemployment rate sits at 10.2%.
While it's painfully clear that American workers are continuing to lose their jobs, the exact number of workers who have been fired, laid off or otherwise let go due to COVID-19 is difficult for officials to quantify. In fact, the U.S. Bureau of Labor Statistics has stated that official unemployment statistics likely underestimate the true unemployment rate.
How to measure the true unemployment rate
New workforce data from Every Market Media offers clues to help officials get closer to measuring the true unemployment rate.
The business intelligence and data services company analyzed 140 (well, 139,997,852) million corporate email accounts in its database across a wide swath of industries before and after pandemic began in order to examine shifts in email decay rates, which measure email addresses that have been deactivated or deleted – a clear indication that a worker is no longer employed with a company.
The findings offer insights into the magnitude of the coronavirus-driven exodus of U.S. employees from the workforce by leveraging a metric that's typically obscured from public view and overlooked in unemployment estimates.
Companies are deactivating employee email accounts at more rapid pace than ever before
The data analysis revealed that the number of deactivated or invalid email addresses increased at a rate of more than 7% between January and July 2020, jumping up from a rate of about 2.5% per month to 13% in the last quarter alone.
"We are seeing a material increase in the number of company email addresses that have been deactivated since the pandemic began," Every Market Media CEO Richard Holmes said.
Some email decay is normal as employees move from job to job, and industry experts note that the average monthly decay rate is about 3%, totaling about 30% per year, depending on the specific industry and job role.
"If this trend continues, we expect to see about 55% turnover in emails deactivated this year," Holmes said.
Every Market Media's findings are summarized in the infographic and charts below:

10 Hardest Hit Industries
Every Market Media's data analysis of 140 million corporate email accounts revealed that the highest rate of email account deactivations occurred within the following industries:
Eating / Drinking Places
Personal Tax Services
Retail
Education
Healthcare Services
Business Services
Lodging
Financial Services
Airlines
Amusement and Recreation
"The data reflects the nationwide trend that companies are laying off workers in large numbers," Holmes said. "It is an alternative indicator of workers and businesses experiencing higher than normal turnover" Holmes continued, noting that many of the frontline, hourly workers who have been strongly impacted by layoffs don't have company email addresses.
Implications for consumers, businesses, government and nonprofits
The high rate of email decay underscores the need for businesses, government agencies and nonprofits to keep their email databases current in order to reach people with important updates.
"Professionals who rely on business contact information to communicate transactional data, marketing messaging and measure risk may be interested to know to keep up they may have to change their verification practices." Holmes said. "It's essential to keep your customer information up-to-date."
Holmes predicts that COVID-relief programs, including payroll protection loans, are likely propping up companies in the short term, but staffing levels may be further slashed when funds run out.
"What we're seeing now is only the tip of the unemployment iceberg, unfortunately," Holmes said. "The data gives us a more complete picture of COVID-19's devastating effects on workers and the U.S. economy."
Update: 10/7/2020
Raw data from the exercise is available to researchers and other concerned parties.
The team, at the recent request of Crain's Chicago business media, went further back in 2019 to get data from another 35 million emails. Visualizations are below.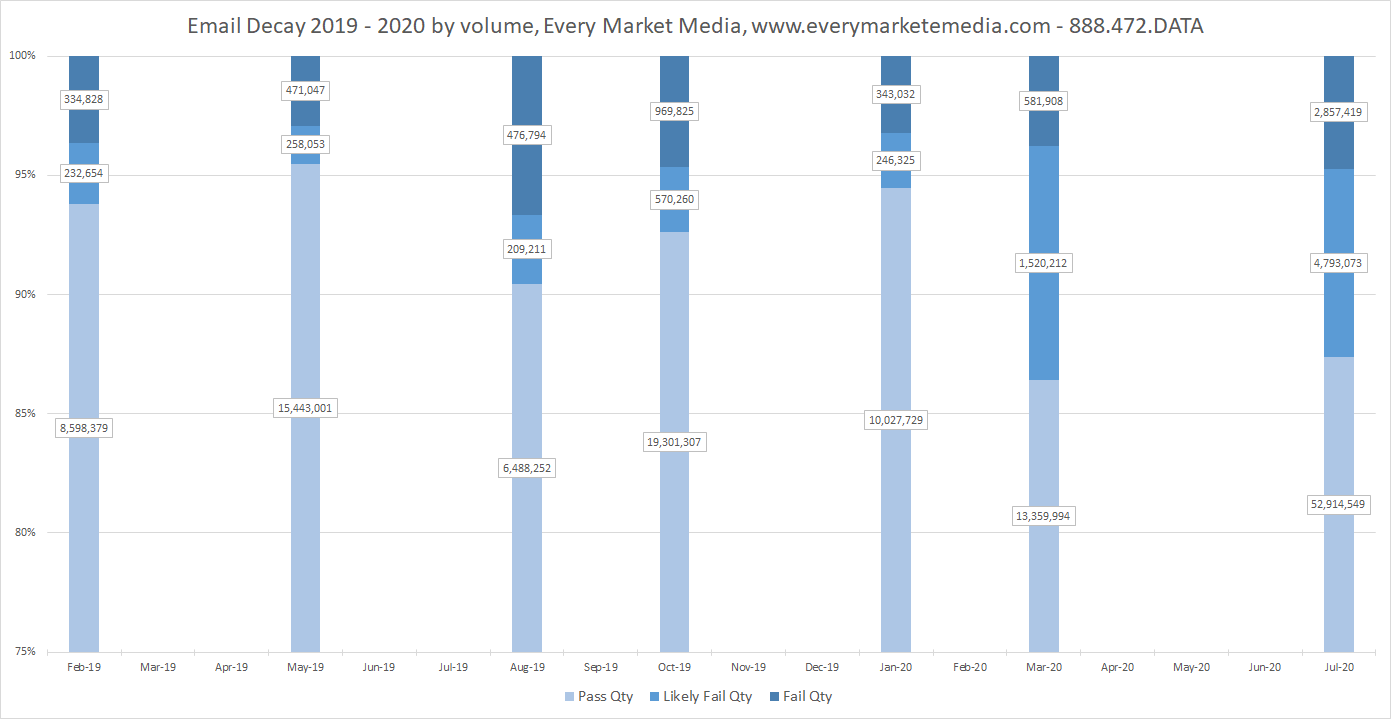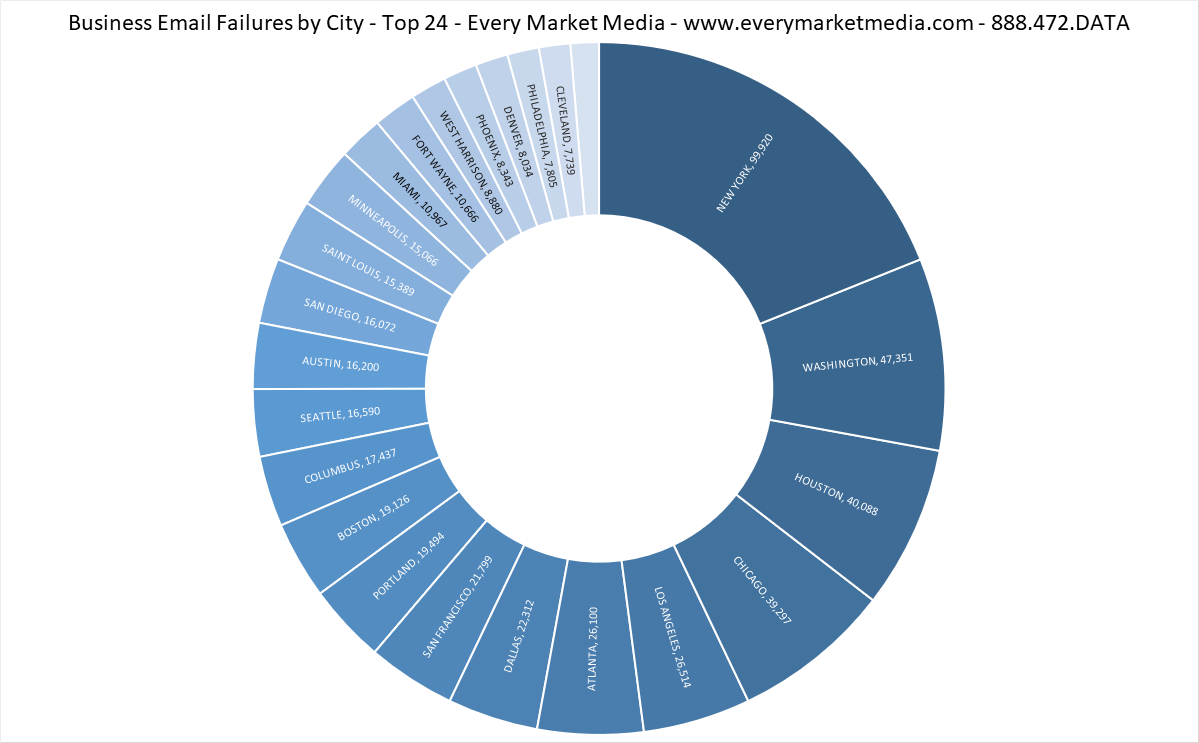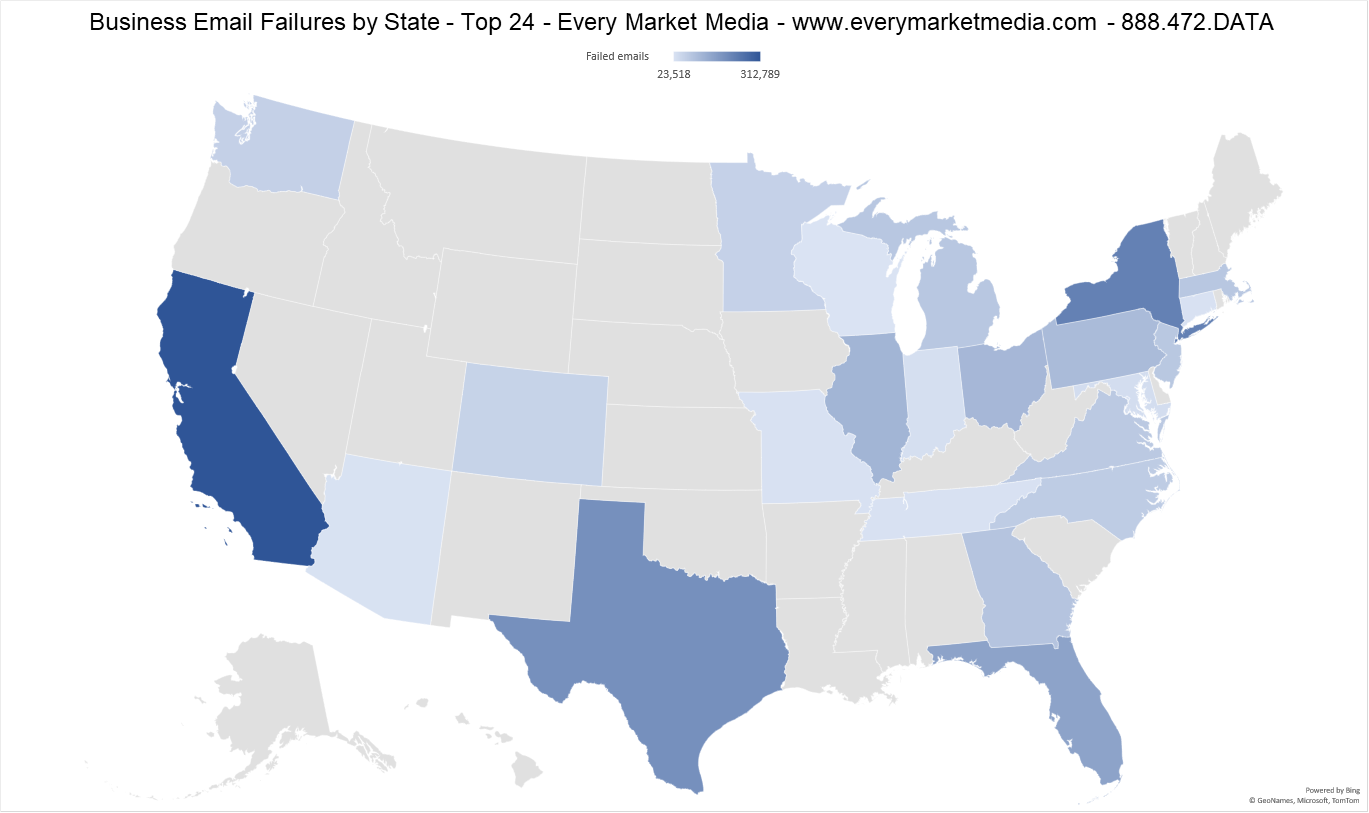 To get instant updates on future articles, make sure you subscribe to our blog!