B2B and B2C Updates

We've evolved as a leading player in the data industry, making our data better year after year. Read through our updates if you're interested in seeing where we started and where we are now!
B2B UPDATE 6.17.4 BRINGS NEW DIRECT DIAL
Update 6.17.4 marks the first time in EMM history where four sets of changes were pushed to the master file in a 30 day period.
These rapid changes are brought about by increased use of data by end user marketers, who are finding the latest changes to our segmentation are producing strong direct dial rates and consistent response rates for SDR teams.
Because we've increased dialing by our offshore partners, clients now have access to over 150,000 direct dial numbers verified by a human in the last 90 days and can access 2.5 million more with a 50% probability of direct dial connection. This direct dial quantity has grown 500% since January 2017, and we're on track to publish half a million direct dials before the end of the year.
For sixteen quarters, EMM has been delivering reliable B2B email update files to enterprise data companies who add value to the records and distribute to their clientele. Now marketing teams can get the same data in list sized quantities.
Try our data now by purchasing 10,000 test records for your next campaign. We deliver the data fast and offer no-hassle replacement/refund for a risk free transaction.
Contact us to see for yourself why 93% of our clients in 2016 are clients in 2017.
6.17.4 Highlights:
- email verified 30,916,306 net new emails, adding 14,584,623 records to AAA-CC, bringing the total number of records from 40,741,746 to 55,326,369.
- made 23,130 outbound phone calls to confirm additional algorithmic segmentation, pushed failure and success results to DB. All data segments re phone-scored.
- live dials to targeted sub-population allowed for our highest sample based direct dial outcomes yet (52% and 65% v previous high 42%), resulting in massive improvement to connect rate in AAA and BBB categories
- manually reviewed 2,848 domains with high degree of company name variance, resulting in improved SOHO domain resolution and removal of company names that resemble job titles
- real world email delivery tested contacts from domains that are parked or do not resolve. Low delivery resulted in the removal of 450k low quality contacts from ambiguous email validation.
- 815,315 records added into AAA and BBB of which 40,860 are from new sources 25 and 24.
- Human verified direct dials added to AAA and BBB, phone scored 100. Human verified failures removed.
- Isolated records on cusp of AAA and BBB by phone occurrences and sampled and dialed. Applied actual phone score, resulting in removal of high occurrences phones from AAA and BBB and inclusion of low occurrence phones, when applicable.
Full Global B2B Email Validated, NTC Strata Coming
Global b2b update 2.17.1 All records in the EMM Global B2B Database from countries permitting the use of 3rd party business data have been email validated and intensive character cleanup was performed. This has resulted in 1.8 million highly deliverable business emails and 2.05 million non-failures across 17 countries. Absent from this validation are Canadian email records, an example of a market where EMM made the choice to not validate records in countries where marketing by third parties without express consent is now law. Following on high rates of adoption of our Needle and Thread quality structure from our US B2B file (present as our NTC field) this email validation clears the way to begin grading the phone connect quality for striation of our file globally as domestically.
'Email Status' Unique Email Quantities:
Ok (Passed ping or delivered mailing): 1,816,618 Unknown (Catch All, Unverified or Soft Bounced): 2,051,564 Not Verified (Has not been recently verified or mailed): 10,420,737 Bad (Likely bad, worst traps): 4,882,457 Total: 19,171,376
For the most current counts, pricing or to get information about installing our product talk to us here. Not ready for all that yet? Try our Podcast.
EMM B2B 3.17.1 Update Complete!
The EMM Operations team has been working tirelessly all quarter to complete this major milestone update. This update proudly closes a full quarter of processing email validation of our entire file. That is a lot of email! (128,225,212 records to be exact). These new deliverability results have been integrated within our existing intelligence. The responses have shifted data throughout our quality strata, resulting in net new 6,352,726 records that have never been included in our mailable (AAA-CC) file before.
Notable Highlights:
Email verified all records within AAA-CC that were not previously verified within last 2 update cycles. Also verified 10,604,270 C records that previously not been included in mailable file. CASS standardized all addresses
New Deliverability Status of "Unverifiable" added from new verification. "Unverifiable" records are categorized with Suppression Code "Catch All" and fall into B's.
New Deliverability Status of "OK" added from new verification. "OK" records are categorized with Deliverability Status "D" and fall into A's
Filled in First and Last Name on 1,901,444 from alternate hygiene source.
Filled in Title on 600K records, Company Name on 238,072 and Phone with Phone score of 18 and 23 on 309,390 records from alternate hygiened sources
Threat processed all C records that passed verification
As part of this update, EMM compared each Company's Industry and SIC Code fields to identify when they did not align. When more accurate SIC Code values were available, they replaced the current values, thus improving the quality of our global B2B file. These changes, along with the email validation processing of our full file, have produced net new 6,352,726 records and ensured that our B2B files are the cleanest and safest that they have ever been! Keep an eye out for these further improvements that are scheduled for the upcoming weeks:
Increase our direct dial coverage in highest quality strata's AAA, BBB
Publishing accumulated net new
Publishing high quality exceptions through automation
Use reporting to drive investment focus
Explore better resolution on false catch all boxes with our annual live mailing
US B2C Q2 2016 Update
EMM adds significant quality to its B2C records, re-mails entire Double Verified file, CASS Standardizes and more
After completing one of EMM's largest ever B2B updates, the operations team here at EMM has been riding the wave of productivity to also get our B2C update completed! This update has seen a focus on not only delivering high quality net new data to our clients, but also on improving compatibility and deliverability.
Notable Highlights:
Remailed entire Double Verified file
CASS standardized all addresses
Completed audit of all our registration URL's to check compliance
Replaced all sub optimal URL's with alternative proof, thus increasing the quantity of our marketing safe segments
In case you missed it in our previous post, EMM has produced a "privacy" color scheme for our double verified records. This can be seen below:
| | |
| --- | --- |
| KEY | |
| Orange | Archiving not permitted, invalid site, landing page with no privacy policy |
| Yellow | Inactive site, archiving permitted, privacy policy acceptable and archive link saved |
| Green | Active site, privacy policy addresses third parties and affiliates favorably |
| Black | Suppressed by rule (adult, known false, known threat) |
| Non US | Non Us web property |
| RED | Legacy or current privacy policy does not support third parties or affiliates |
As part of this update, records with a Black or Red status were sent to a partner of ours, Bridge Marketing, for replacement registration information. If these could not be replaced, they were excluded from our Double Verified File.
These changes, along with our re-mailing of the entire Double Verified File, have produced greater accuracy in deliverability and compliance as well as newer registration information!
After all these important changes were finished, the final total quantity for our Q2 MasterFile is 388,799,574, of which 136,120,275 are Double Verified. While this may be a decrease in the amount of records, EMM feels that in this case, quality over quantity is of utmost importance and the removal of records with bad registration info will greatly help our clients and any new customers that use our Double Verified file.
In conclusion, EMM is confident that this update will not only provide our clients with more accurate deliverability and accurate registration information, but also provide improved compatibility within their systems!
US B2B, Q2 2016 Update
EMM publishes 5.1M new contacts, re-mails entire file, CASS standardizes & more Q2 2016 saw EMM buying, processing and preparing more US B2B email marketing data than ever before. Improvements in moving data through ingestion processes have resulted in more value being crammed into this quarter's update than ever before!
Notable highlights:
Refreshed all delivery statuses with mailing results generated 4/1/16 – 5/1/16
Published 5,184,881 million new contacts
CASS standardized all addresses
Improved percentage direct dials
Reduced "unknown" Job Function categories to near zero
Hot off the presses this file is the first high volume proof of concept using 100% EMM verification and on-boarding methodology.
These changes make more, higher quality data available to our Strategic Partners and List Brokers. In summary, CASS standardization allows for better match rates to client files and within our own sets. Fresh verification statuses mean only the highest deliverability levels from our Double Verified records with more sales prospects being reachable at a direct line.
With 5.1 million new published records (@43% direct dial!) cataloged on an improved Job Function table, you can be sure your client will find the data they need with EMM. EMM's Founder Rick Holmes had this to say about the update:
"This set illustrates our team's ability to onboard and process tens of millions of B2B contact records. We're already publishing more data than firms four times our size and we intend to continue to raise the bar for the quality and quantity of our outputs."
An anonymous EMM client perhaps said it better after receiving their update file. "Holy Smokes, you've been busy!"
Yes, we have.
EMM's International B2B Database Update | April '16
After many weeks of engineering data changes based on client feedback, we are thrilled to announce our most impactful B2B International database update yet.
This quarters logic heavy update has focused on unifying and selecting the best value for company level attributes when multiple values are present at the same company with different contacts.
EMM was able to accomplish this by levering their domain table of over 15 million worldwide domains into a databased table of company information. This table allows for all records in our database to be grouped by domain and then grouped to a unique company ID.
We researched the best quality firmagraphics within our third party suppliers, prioritized them and pushed the data into the contact records at a domain level. Going forward, this table serves to unify all new data and provide better segmentation coverage, which was especially lacking on Global assets until now.
These exciting new available fields and quantity changes are below. To query the database for prospecting records, use our research team. To get information on our install-base products or to use our data to enhance yours, talk to us.
The following logic changes were made.
Standardized all company names based on value frequency confidence scoring
Populated most common values for address at given location
Improved taxonomy tables for revenue range, employee range, job level and job function
Increased email verification standard
Suppressed invalid domains, parked domains
Improved first and last name invalid logic
Dropped 654,281 email invalids
Additional improved phone
The following values were added:
7,117,947 contacts enhanced with Technologies on Site
6,176,852 contacts enhanced with Year Founded
7,121,921 contacts enhanced with social media data
11,677,842 additional contacts coded with Industry / SIC
Dropped 1,026,648 contacts due to association with invalid/parked domains
This resulted in the following final totals. Download our file layout and quantities here.
Total unique email records: 19,364,574 Total full business card records: 8,499,630
EMM's B2B Database Update | Q1 2016
For the past three months Every Market Media has been working on a B2B database update with the aim of providing our customers with better and more in-depth data. We made numerous improvements to previous categories and added additional categories such as "technologies used", year founded, and social media information. Our aim is to provide exceptional data and this update definitely aids us in accomplishing just that! This quarters logic heavy update has focused on unifying and selecting the best value when multiple values are present for the same record. We've addressed this by building a domain table derived from the domains in our email addresses which has allowed us to fill and improve millions of records in the set. Going forward, this table serves to unify and provide firmographics at a domain level for all new records. The following are notable highlights of the standardization and completed changes:
An overall increase 1,254,313 company names, standardizing/merging 4,470,721 company names.
5,975,031 more phone numbers
3,739,475 improved addresses
10,292,971 more contacts with employee size value
Dropped 49,914 invalid first names and 400,000 international contacts dropped from US file
This domain level unification has made the data easier to pair to third party sources of enhanced firmographics. Notable highlights below:
43,219,975 contacts enhanced with "technologies used"
39,020,226 contacts enhanced with year founded
38,172,436 contacts enhanced with social media information
7,090,088 more contacts with Industry information
Dropped 248,637 domains and associated contacts as parked/invalid
In summary these changes have dramatically improved the quality of much of our company data, made many more of the contacts actionable and made them additionally suitable to more marketing applications.
Spring into our Enhanced B2C Database!
We sprung our clocks forward awhile back now, but, unfortunately, the weather in Chicago hasn't quite gotten the message.
Though a bummer for our cabin fever and waistbands, the stubborn continuation of winter has proven to be the perfect condition for us to hole ourselves up in our offices and rock the largest update of our B2C database in our history!
And, with the continuous efforts we put into our database growth and improvements, that is really saying something. So what's so great about the 2015 Q1 B2C database update? I'm so glad you asked! There are actually 4 things, in particular, that we focused on that we feel have resulted in 1 awesomely enhanced consumer database:
1. Format Fixes & Clean-Ups.
We won't bore you with all of the details, but we fixed the data that we could, removed the data that we couldn't, added more deliverability flags to weed out the riff raff, added new data fields to track creation and recency of updates and uniformly reformatted to match our B2C and International databases.
2. Double Verification – our new favorite toy!
You may have read recently about our unique and custom method for determining the deliverability of an email address. Just to recap, DV is a proprietary method we've developed that uses live sending and a couple of industry leading software hygiene processes to properly vet email addresses and truly determine mailable records. Through our partnership with Bridge Marketing and ImpressionWise, we applied Double Verification to our entire B2C database and identified a ton of previous and new data that has since been graduated to "premium" level. Check out more on the DV process here.
3. A New Data Source!
We have brought in a ton of new data that added premium email addresses (41 million mailable net new), gave us new insight into existing records and introduced a couple of new fields. We added/replaced ~20 million telephone #s scrubbed against the Federal DNC (Do Not Call) list. We filled in gender, date of birth and/or ethnicity on over 24 million records. And lastly, we added the fields Occupation and Income Range that are now selectable on 27 million records.
4. NCOA'd over 64 million postal addresses.
We aren't just interested in improving the quality of our email addresses.
Updated postal addresses for our records, using the USPS' National Change of Address, benefit all involved. Accurate postal addresses enable us to better target our email campaigns geographically, append demographic and interests data, and offer direct mail lists and integrated campaigns to clients.
So what does the largest B2C marketing database update in EMM history mean to our clients?
The results of our recent toils include a master file of over 300 million email records and an enhanced, mailable segment of over 131 million premium email addresses! And, with postal addresses and DNC scrubbed telephone #s to complement our email addresses, we can work with each of our clients to customize the right list to support any integrated marketing campaign or data appending need. Please feel free to contact Every Market Media if you're interested in learning more about our updated B2C marketing database, receiving a sample file or would like us to run some counts for you.
We've Doubled Down with our B2B Email Database
The 1st quarter tallying has been completed and we've had a 200% increase in our deliverable B2B email database!
We did a double take and a double check, but have confirmed it's official – our latest b2b data onboarding and hygiene methodology has netted a 2 hundred percent increase in our deliverable emails this quarter. So 2015 is off to a swimming start for our b2b data … this is great as well as a bit ironic as no one else is getting to swim in Chicago quite yet this year. So how did we do it? We rode the momentum of our 2014 work on our b2b data, repurposed some of the hygiene process improvements used on our b2c data in recent months and turned some serious attention to vetting the quality of our business telephone data. Here are some deets: Email/Postal
Live-send verification using 2 C-Class IP blocks of higher quality than our previous scrubbing servers, more efficiently weeding out the riff raff and netting more deliverable records
Continued to leverage our relationship with Impressionwise to remove potentially threatful email addresses and non-deliverable data
Updated records with deliverability feedback from the past 3 months of live mailings
Cleared or replaced foreign and invalid characters with correct formatting
Appended postal information on nearly 2 million records
Filled in missing First Name, Last Name and Title where available
Telephone
For customers in the telemarketing game, a new scoring field has been appended to all records that will be clutch
The "EMM Phone Score" provides an internal phone score by original file source
We picked up the phone and got to work calling a random sample records from each source. The results were used to extrapolate a score that estimates the rate of calls that would receive a valid direct dial connect
So what do we actually have after the awesome increase in deliverable email records and assorted hygiene & data update goodies? A b2b database that is not too shabby if we do say so ourselves:
MasterFile = 83,223,903 records (Full database, includes all data quality flags)
Mailable file = 50,825,167 records (Includes known deliverable email records)
Full Business Card Valued Records = 38,858,846 records. (Business card value includes: Contact Name, Title, Company Name, Address, City, State, Zip, Phone and Email)
Improving EMM's B2B Marketing Database by Adding Standardized Title Buckets
Back to our B2B domestic file this week and our operations team have been busy, as always, improving this file by adding standardized titles.
You might be wondering why adding standardized titles to B2B records is important.
Well let me tell you! A contact record is only useful if you can easily find it and market to it.
Pretty obvious right? It doesn't seem like anything but the logical option to make the decision that a person with the job title "IT Manager" should go in the job function bucket "IT". This "IT Manager" would then be very easy to find and be retrieved during counts for that function bucket.
But where it gets a little tricky is when the question comes up of what about a title like "Network Engineer"? Does it go in IT or Engineering?
Ok that's an easy one, put it in both. But what about this one? Vice President of Commercial Lending. Is that Financial or Sales?
We were surprised to find that many of EMM's competitors solve this problem by standardizing the actual titles on their database, replacing actual user reported title with between 50 and 250 standard values.
This results in reduced marketing performance because there's a big difference between "Vice President Commercial Lending" and "VP Finance".
10,871,201
What is this number you may be asking? It is the unique count of titles that are now on our B2B email database. No replacing of actual user reported titles and no loss in marketing performance here.
EMM's engineering (or was it IT?) team has spent the last 12 months running counts with keyword lists that we've derived.
Based on these keyword lists, that include and exclude title keywords, we have created rules ("taxonomy tables") that create representative groups without including records not related to your title query.
And, since we've added it as a field value you won't lose the targeting capabilities you get with more specific titles. All leading to greater ease and accuracy when trying to find a specific customer to market to with EMM!
To find out any more information on the improvements we have made recently to our B2B file, or to speak with one of our data experts, contact us here. Or if you would like us to run a free no obligation count for our B2B database visit us here.
EVERY MARKET MEDIA AUDITS 3,500 URL'S FOR COMPLIANCE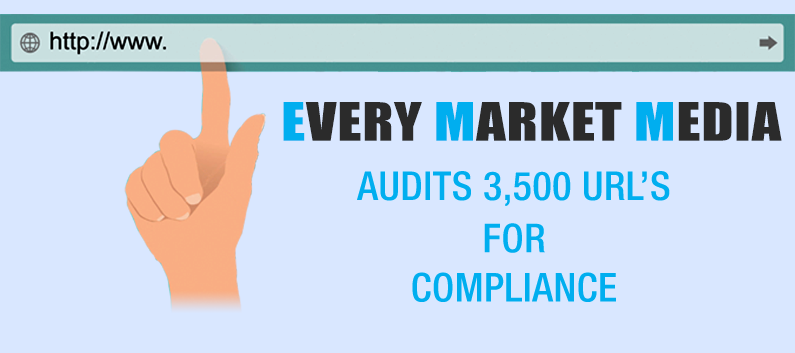 Unique as a feature among EMM's email assets is the unique traffic data accompanying each published record. Other vendors call this "Source URL", you often see it as proof of "opt in" or "double opt in" when a list salesperson is perhaps overdoing it a bit.
EMM performed an audit on its top 3,500 beneficiary URL's. The results are interesting, before we get to that though let's lay down some base knowledge.
What is a B2C URL
A B2C email form submission that EMM might purchase and then supply to a marketing services company would at minimum capture an email submission, the IP address from which that submission came, the URL of the traffic beneficiary and the time and date of the occurrence.
| | | | |
| --- | --- | --- | --- |
| EMAIL | IP | URL | TD |
| example@example.com | 220.2.2.1 | www.trafficbeneficiary.com | 3/24/2016 |
Why do we retain it?
As proof that the origination of the record was not a scrape, manufacture or dictionary attack, per CAN SPAM compliance best practices.
Why audit the URL?
For data validation and compliance. We desired to discover which URL's were suboptimal for this purpose and which we should seek to replace with alternate proof, thereby increasing the marketing safe segments of the dataset. Here's an example: chooseyourcolor.com There are 600,713 emails in our double verified B2C email file for this URL.
The URL is inactive, and it's robots.txt file did not allow it to be archived so there is no record of its content. Could this record have been scraped? It's possible. In combination with the IP address being logged, that's less likely though the IP could be fake. A cautious email marketer would pass on this record. A display marketer or an analytics user might want it.
So what?
This audit has produced a "privacy" color scheme for 139,000,000 of our double verified records. We will seek over the next six months to replace lower tier colors with higher tier colors by using duplicate email records to replace this information with stronger proof of compliance.
| | | | |
| --- | --- | --- | --- |
| KEY | | | |
| Orange | 27,230,925 | 19.53% | Archiving not permitted, invalid site, landing page with no privacy policy |
| Yellow | 24,203,175 | 17.36% | Inactive site, archiving permitted, privacy policy acceptable and archive link saved |
| Green | 53,047,607 | 38.05% | Active site, privacy policy addresses third parties and affiliates favorably |
| Black | 19,085,965 | 13.69% | Suppressed by rule (adult, known false, known threat) |
| Non US | 3,598,603 | 2.58% | Non Us web property |
| RED | 12,250,591 | 8.79% | Legacy or current privacy policy does not support third parties or affiliates |
| TOTAL | 139,416,866 | | |
This new compliance data, along with accompanying email records (including name, street address, basic demographic information and more) with relevant filters for your application is available for license. Feel free to contact us to learn more about our compliance data, receive a quote or a FREE count.